LEGO Technic 42139 All Terrain Vehicle Review and Gallery
Are you looking to venture off the beaten track? Want to take a walk – or drive – on the wild side? LEGO Technic 42139 All Terrain VehicleThis is it.
Hovercraft. Microlight. The screen is suspended from the ceiling and makes a home cinema system. Replica lightsaber that looks very realistic. 'zshooonggg'When you swirl it about, noise. While these things are not something that many people use, they're all important to many.
To that we now have the All-Terrain Vehicle. If you're a farmer, or a Mountain Rescue worker, or a member of Thunderbirds, then maybe you can justify owning a multi-wheeled, go-anywhere, do-anything buggy. But for those of us who live in a flat, or a suburban semi-detached, it's probably quite a difficult argument to make.
But they look fun, don't they?
Well, if you can't class your dog as a tax-deductible asset and you don't live on a secret island in the South Pacific, maybe the LEGO Group can help you to live out those off-roading dreams vicariously through the new Technic 42139 All-Terrain Vehicle.
Theme: LEGO Technic Give it a name 42139 All Terrain Vehicle Release: March 1, 2022
Price: £64.99 / $79.99 / €74.99 Pieces: 764 Minifigures: 0
LEGO: Available now
At first glance, this six-wheeled off-roader looks to be a relatively simple set that would struggle to justify the £65 price tag. Looking at the box art we can see it's got some moving pistons in the engine that can run at two speeds, and the rudimentary box on the back tips up. Oh, and there's a chainsaw. But as we'll see, there is rather more to this set than first meets the eye.
The build starts with a basic two-cylinder engine and unlike many sets, the pistons aren't buried away inside the vehicle, never to be seen again, but sit where the rider's ankles would be. Presumably this helps to keep your feet warm on cold days. In larger sets this would often be attached to a working gearbox, but in this case it's a simple mechanism that allows the engine to run at two different speeds (slow and, er… fast) by means of a rocker switch.
This first section of construction is either challenging or just plain fiddly, depending on how small and/or nimble your fingers are. After a minimal amount of cursing we're on to the chassis, and this is where it becomes apparent that this is no 'build it in half an hour and drive it across the carpet' set. Each of the three axles has independent suspension, while the two rear axles both have differentials and can move independently of one another.
This won't challenge experienced Technic builders, but for those moving up from the smaller sets like the pull-back motor-equipped 42135 Monster Jam El Toro Loco, it makes for an interesting build and starts to demonstrate the engineering that is possible with the LEGO Technic system.
Along with some basic bodywork, there's a manually-operated tipper body that can hold the four wooden logs and chainsaw, working steering and a winch, which is more sophisticated than it first appears. Instead of just being a hook on a piece of string, there's a lever that releases the hook, allowing the string to be played out, which is then held on a ratchet until it's wound back in with a satisfying click. The application of the 21 included stickers, which are all mercifully straightforward to apply, completes the build.
It's a Technic set. Technic does not do minifigures. Please move along, there's nothing to see here.
At first glance, we thought the price of £64.99 / $79.99 / €74.99 was a little steep, but having completed the set, it's actually pretty good value. The set is of a decent size, would look good on display and is undoubtedly robust enough to put up with some boisterous play. In addition, it makes for a pretty good parts pack if it's whetted your appetite to have a go at free-building with Technic
We like 42139 All-Terrain Vehicle considerably more than we thought we were going to. It doesn't appear to be modelled on a particular real-world off-road vehicle, but there's a hint of the Honda TRX500 and the Argo Frontier 700 about it. If it was built in red or olive green rather than the traditional orange and black of Technic sets, it would be easy to think it was a replica of an actual ATV.
It's a nice challenge for those unfamiliar with the 'other' sort of LEGO, but not so simple that Technic veterans won't enjoy it. It looks good, has more functionality than you think and the inclusion of some brick-built logs and a chainsaw (with its helpful but not entirely necessary 'Chainsaw' sticker) adds play value, making this a worthy addition to any Technic collection.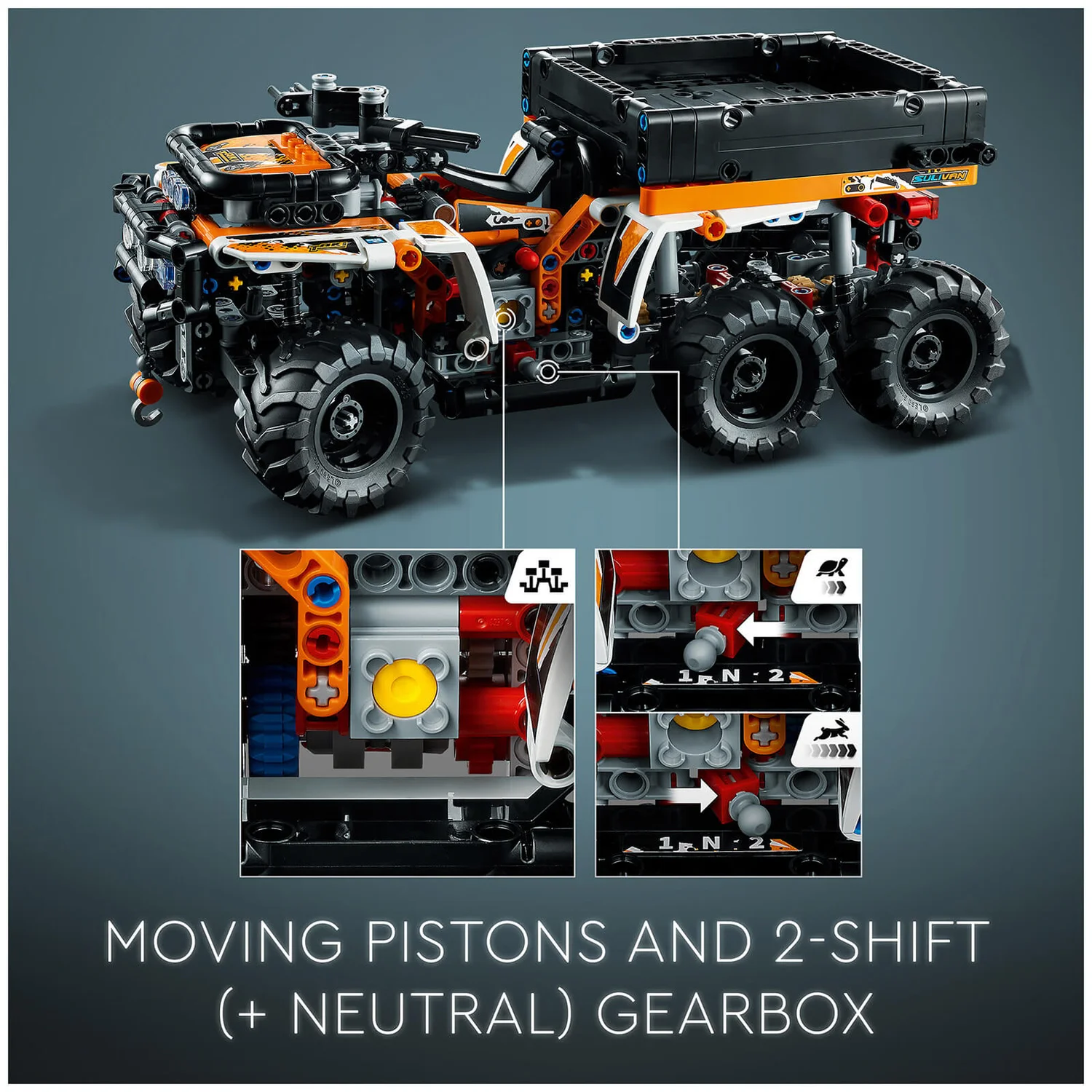 How long does it take to build LEGO Technic 42139 All-Terrain Vehicle?
With six bags of parts, plus 21 stickers, 42139 All-Terrain Vehicle will take around four hours to build, or maybe a little less if you've got small fingers!
How many pieces are in LEGO Technic 42139 All-Terrain Vehicle?
How big is LEGO Technic 42139 All-Terrain Vehicle?
How much does LEGO Technic 42139 All-Terrain Vehicle cost?
42139 All-Terrain Vehicle is released onMarch 1, 2022 and is priced at £64.99 in the UK, $79.99 in the US and €74.99 in Europe.
Continue Reading